1984 Peugeot 205 Turbo 16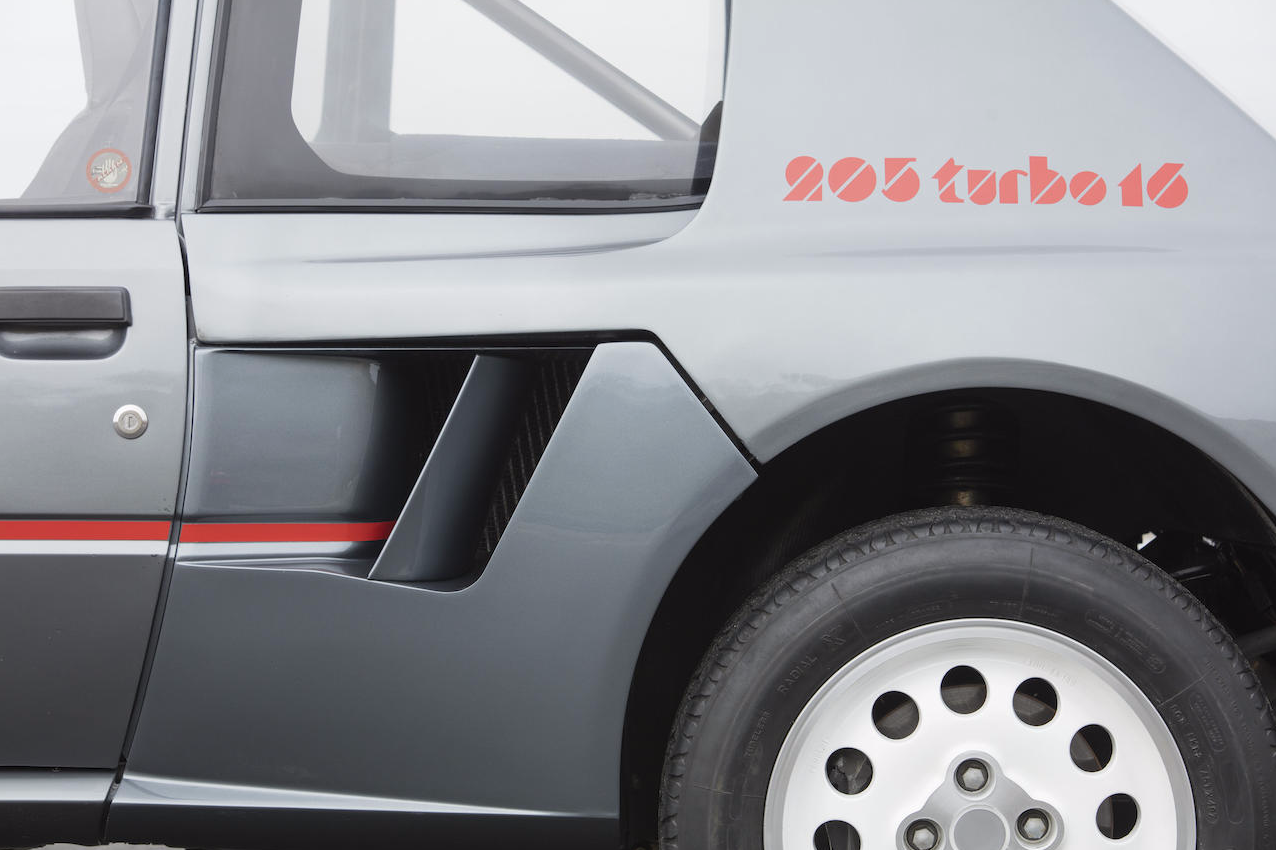 In 1982 when the new set of Group B rally regulations was introduced, Peugeot was in the process of shifting production towards smaller and sportier vehicles. The French manufacturer wanted to use the new rally regulations as a marketing tool with the well-known phrase: 'win on Sunday – sell on Monday'. With the newly acquired Talbot brand, Peugeot engaged with rally expert and former co-driver Jean Todt and formed Peugeot-Talbot Sport (PTS). The budget for developing the new car was almost without limit. In fact, the only real constraint that the engineers had was to fit a high performance 4-wheel drive into the 205 chassis. The normal production 205 was a front wheel drive car but it was decided that, as opposed to the Audi Quattro, that the 205 T16 would be mid-engine for better weight distribution.
To enter the rally cars into Group B, Peugeot had to build 200 homologation units. Already under time pressure, PTS had to be creative. So, to make the process as easy as possible, Peugeot elected to make all the road cars to the same specifications. In March of 1984, when the time came for the 205 T16 to be homologated, Peugeot decided to line up every single one of the cars built on a massive expanse of tarmac so that the FIA could see for themselves that all the cars truly existed. Homologation was duly granted on April 1st, by which time PTS had already laid plans for the car to make its World Rally Championship debut in Corsica on the 3rd of May. The 205 T16 turned out to be the most successful Group B rally car with 16 outright rally wins and two championships, even surpassing the legendary Audi Quattro (13 wins, one championship).
Bonhams will be offering this example at their upcoming Quail Lodge auction on the 19th August, the estimated value is between $200,000 – $300,000. For more information on this and other vehicles at the sale, click on the link below. Photos courtesy of Bonhams.