Ed Roth's 'Mysterion'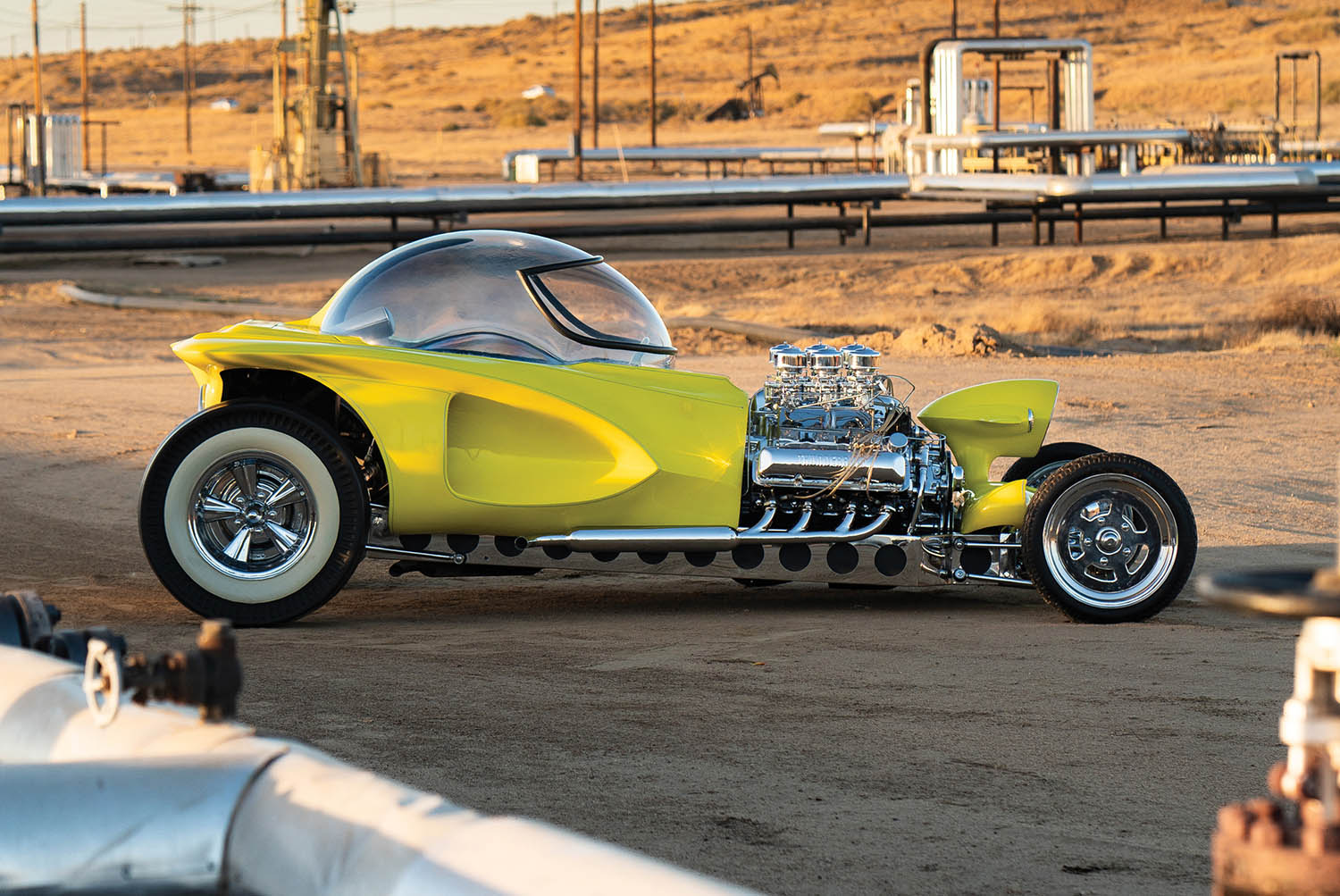 Always evolving, Ed 'Big Daddy' Roth was a highly creative artist with a sound grasp of mechanics and electrics. He pioneered the use of new media like plaster of Paris, Vermiculite, and fibreglass to build his cars so he could pursue shapes and concepts far beyond anything other customisers had achieved. More intrigued with producing rolling art statements than mechanical function, Roth nevertheless built bizarre vehicles that actually worked, and became a major player in mid-century Southern California car culture.
During the 1960s, Ed built a series of wild custom car creations that bore distant relationships to conventional hot rods and customs, but employed fresh new materials, fantastic shapes, wild colours, and modified engines to elevate the custom car genre to an artistic level never before achieved.
The 'Mysterion,' a radical twin-engine car with a duo of 390-cu. in. Ford big-blocks, was probably inspired by two-engine dragsters like Tommy Ivo's twin Buick. The engines are tilted and their natural offset permits exhaust header clearance. Although asymmetrical styling proved to be a short-lived fad, Ed had to try it. The Mysterion had an oblong grille and odd-shaped nosepiece, with one large, pod-mounted headlight on the left and a smaller conventional light on the right. The hydraulically operated bubble top had a little windshield in the front. Larry Watson painted it gold Murano candy over white pearl. Everything was chromed, including the chassis.
RM Sotheby's will be offering this 1962 Ed Roth 'Mysterion' Recreation at their upcoming Petersen Automotive Museum Auction on the 8th December. For more information on this and other vehicles at the sale, click on the link below. Photos: Karissa Hosek ©2018 Courtesy of RM Sotheby's.