1963 Ford Galaxie 500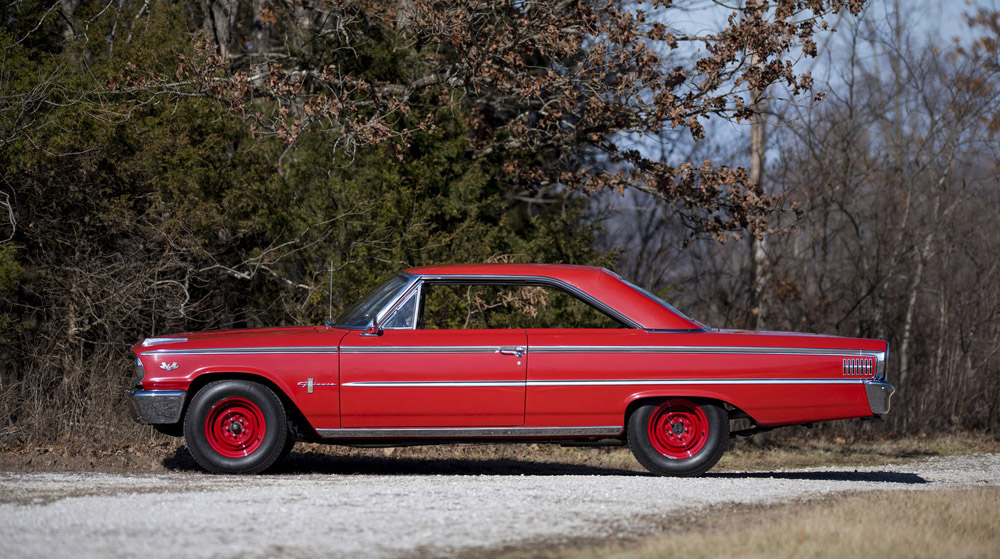 Midway through 1963 Ford introduced a lower, fastback roofline to the Galaxie which improved the look of the car but also made it more competitive on the NASCAR tracks with it's addition downforce. It was known as the 'sports hardtop' or 'fastback'. In limited quantities, a new 427 engine replaced the 406 for racing applications. It was intended to meet NHRA and NASCAR 7-litre maximum engine size rules. This engine was rated at a 425 hp with 2 x 4 barrel Holley carburetors and a solid lifter camshaft. Ford also made available aluminium cylinder heads as a dealer option.
On the circuit Jack Sears won the 1963 British Saloon Car Championship driving Galaxies and Cortinas and the other racing Galaxies were driven by Sir Jack Brabham, Graham Hill and other notable drivers of the period. The heavy Galaxies suffered from persistent brake failure that led to a number of crashes, and in late 1963 started using the 12-inch disc brakes from the Ford GT40 program. By this time the Lotus Cortinas were being developed and the big Galaxie became uncompetitive.
Mecum Auctions will be offering this example at their upcoming Kansas City auction between the 24-25th March. For more information on this and other vehicles at the sale, click on the link below. Photos courtesy of Mecum Auctions.