BMW 2002 Hommage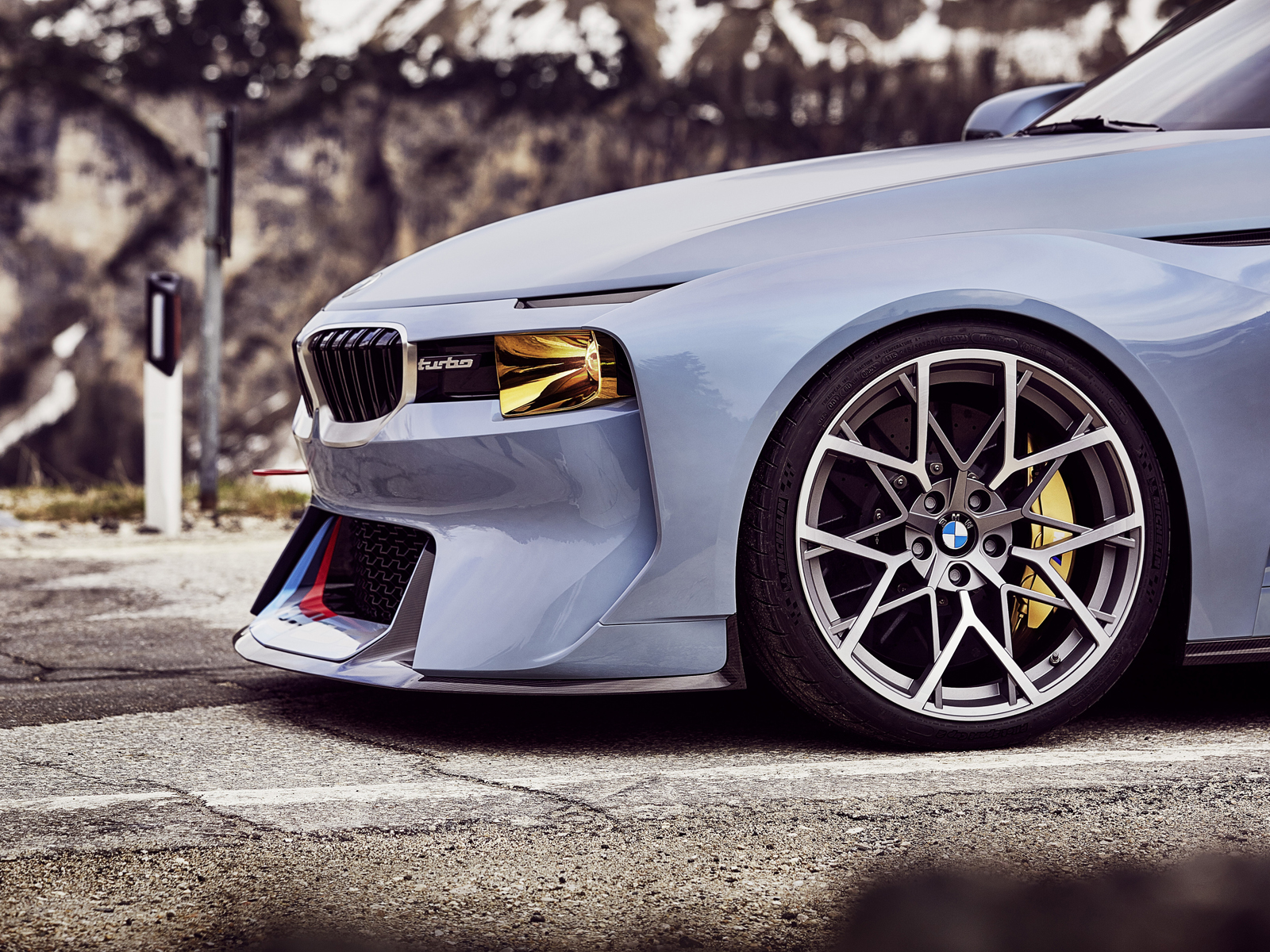 BMW created a very special car for this year's Concorso d'Eleganza Villa d'Este which paid tribute to one of the most significant models in its history. The BMW 2002 Hommage celebrates the extraordinary feats of engineering behind the BMW 2002 turbo – and re-imagined them as a design study for today.
Inspired by the signature chrome strip that ringed the 02 in its day, a horizontal carbon band wraps itself around the shoulderline of the BMW 2002 Hommage and splits the body visually into separate sections. The upper tranche of roof, bonnet and boot lid has matt paintwork to prevent reflection of the sun's rays – in a reference to racing cars of yore. The body's lines here are minimalist, clearly drawn and flowing in nature. The lower section creates a definite contrast, with its high-gloss paintwork, very bold, sculptural surfaces, and distinctive lines that infuse the flanks with a contemporary flavour and draw the eye to the driven rear wheels. The Space Race Metal paintwork drapes itself over the BMW 2002 Hommage like liquid metal. In both its matt and gloss form, the light metallic blue finish changes in appearance from a brightly fluorescent blue to grey, depending on the incidence of light, and lends the surfacing a dynamic sense of depth. As a result, the car's whole body brims with power and energy.
A particularly striking feature of the car's flanks are the voluminously moulded wheel arches, which frame the body like four brackets and add stature. In the process, they recall the homologated version of the BMW 2002 turbo, which needed broad extensions bolted onto its body to accommodate a significantly wider track. The Hommage car integrates this detail neatly into flanks designed with clear dedication to the job at hand. Slick surfacing and precisely chiselled lines envelop the powerful wheel arches and hand them a starring role. 20-inch light-alloy wheels in bi-colour design round off the styling as the car meets the road. The modern looks of these lavishly milled, multi-spoke items recall the racing rims of bygone eras, while gold-coloured brake callipers bearing the M logo add an extra stamp of class.
BMW's fresh interpretation of the BMW 2002 adopts the form of a compact sports coupe in the classical tradition of BMW Hommage cars. But more than that, the BMW 2002 Hommage represents a clear statement of how pure driving pleasure is defined in 2016.