1990 Mercedes-Benz 190 E 2.5-16 Evolution II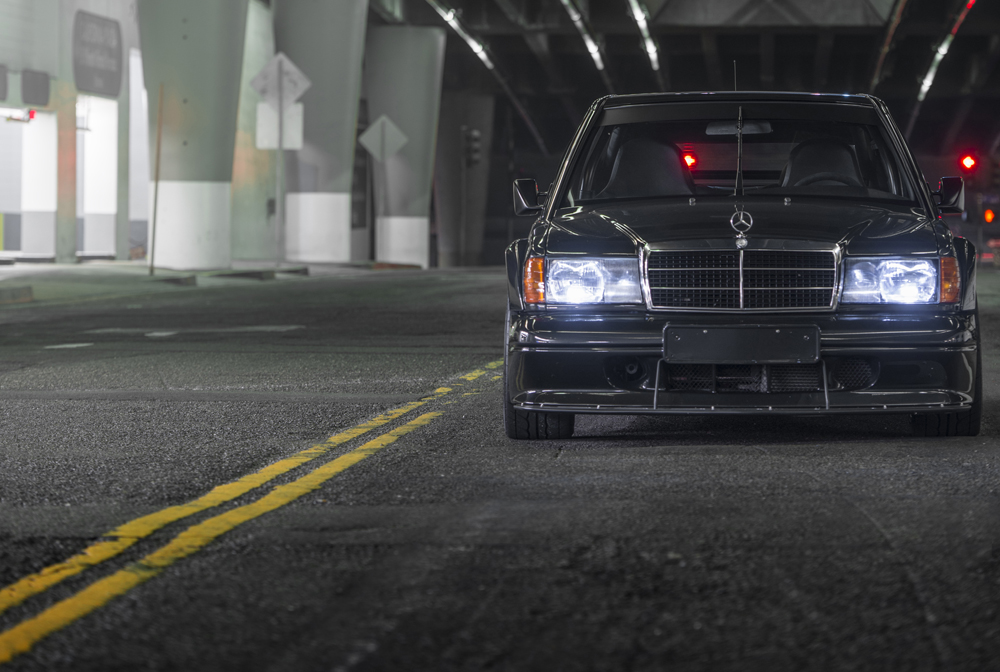 The partnership between Cosworth and Mercedes began as a project to compete in Group B. However, the domination of the all-wheel-drive Audi Quattro quickly put the project on hold. Mercedes instead shifted its focus toward touring car racing. After a series of chassis and gearbox modifications, Cosworth took the standard 2.3-litre 8-valve engine and fitted a light alloy cylinder head with dual-overhead cams and four valves per cylinder. Continued development on the car resulted in an increased 2.5-litre engine by 1988 and the Evolution variants of the 190 Cosworth.

The initial Evo model overhauled the platform into a thoroughbred racer by installing a tuned version of the 2.5-litre engine. A higher rev limiter, larger brakes, and better tyres meant that the Evolution accelerated and stopped better. Further enhancements included wider front and rear tracks, stiffer adjustable suspension, and revised bodywork. For the Evo II, Mercedes refined the developments of the Evo I. The engineers managed to squeeze out an impressive 235 bhp, but the true highlight of the Evo II was the aero kit that featured a towering rear spoiler, imposing flaired arches, and an even more aggressive front splitter. In 1992 the Evo II went on to take overall victory in the DTM championship.
RM Sotheby's will be offering this example at their upcoming Arizona auction between the 19-20th January. For more information on this and other vehicles at the sale, click on the link below. Photos: Robin Adams ©2016 courtesy of RM Sotheby's and DTM pictures courtesy of Mercedes-Benz.